Motivation
Personally I find an external motivator to be great incentive to keep up with an exercise regime. I wish I could say that I have all the internal motivation that I need in order to meet all of my goals, but unfortunately I don't. Sometimes on days when I'm tempted to skip my planned workout, knowing that I'll have to admit my failure aloud to someone else is usually enough incentive to push through.
Usually.
I'm registered to run the San Francisco Half Marathon on July 31st and haven't run consistently for months, so I need to begin training, um… Now! It just so happens that one of my best friends is training for the Death Ride (which I lovingly call The Ride of Death) a 129 mile bike race with 15,000 miles of climbing through the Sierra Nevada's near Tahoe. Her race is July 9 and although we're training for different types of races in different cities (she's in Sacramento), she has been acting as an unofficial sponsor and motivator for my last-ditch training efforts.
Monday mornings I email her my proposed workouts for the week (subject to scheduling changes) and each morning I send her a confirmation of what I accomplished the previous day. I'm going to include various types of exercise in my training program in addition to running, specifically circuit training and Pilates.
Below is a draft of a proposed schedule for one of the weeks of training:
Monday:
Run to work (1.3 miles)
Mini cardio session (2 miles stationary bike & 1 mile elliptical trainer)
Pilates Mat class (5pm – 6pm)
Tuesday:
Jog to work
15 minute circuit training workout
Run (pm)
Wednesday:
Walk to work
High intensity interval training on the elliptical
Pilates Mat class (5pm – 6pm)
Yoga Flow (6pm – 7:15pm)
Walk home
Thursday:
Walk to work
25 minute circuit training workout
Run (pm)
Friday:
Jog to work
15 minute circuit training workout
Saturday & Sunday – Rest & stretching (maybe a massage if I can be convincing enough) and long walks or a hike
Hooking up with a workout buddy who you can share your plans with or a like-minded friend who you may not workout with but who has similar goals, can be a great motivator.
If the idea of sharing your workout goals/plans with someone else isn't appealing, or if you're just getting started and want to hold off until you feel like you've made some progress, there are other external motivators that may help you when the odd lazy day rears its ugly head.
(1) A kick-ass play list can do wonders. Put a super charged playlist on your MP3 player or blare it over your computer/sound system. Everyone has their own style and different beats that get them pumped up, and I personally refresh my Nano weekly, but here are some artists/bands that never fail to get my heart rate going, regardless of my mood: Panic! at the Disco, Fall Out Boy, Chemical Romance, Finger Eleven, Breaking Benjamin, My Darkest Days, Jason Derulo, Lady Gaga, Bon Jovi, K$sha, Katy Perry, Beyonce, Sean Kingston.
(2) Sign yourself up for a class on a day when you don't think that you can make yourself do a work out. You'll feel guilty not showing up after having reserved a spot in the class and even guiltier when you see the charge on your credit card! The two days of the week that are the hardest for me to get off my booty are always Monday and Wednesday, so I'm getting into the habit of doing at least a Pilates class at Glow Yoga  each of those days. And now that I'm getting to know the other students and the instructor, there's even more motivation not to play hooky!
(3) If you have a movie or a book that you find extremely motivational, that can be a great way to get yourself going. If hearing Jillian's commanding voice shoots you out of your seat, start your workouts with some Shred, even if you don't plan to do the video it can give you the push you need. Personally I've found that popping in a dance DVD before my 5:30pm after-work runs or reading a few pages of Born To Run are a sure-fire way to get myself going.
(4) Finally, one of my favorite pieces to read when I need to stoke my motivational fires is The Better Man, about the (then) 75 year-old fitness guru & health nut Don Wildman (my friend Jim sent me this YEARS ago and I saved a PDF in case of emergencies). This always gives me the kick in the pants that I need to get off of the couch.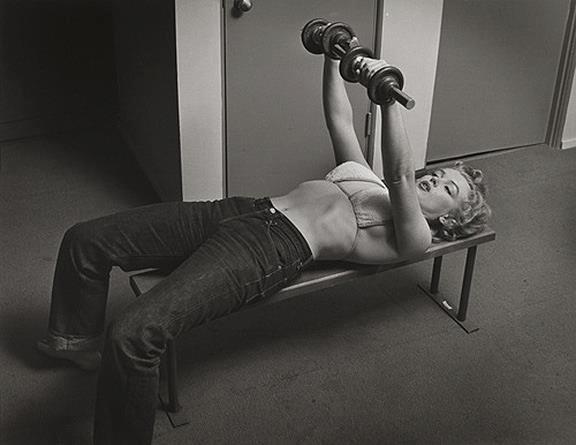 Good luck getting yourself onto the trail, treadmill or into the gym. Make me proud!
This entry was posted on June 29, 2011 by Moi Contre Le Vie. It was filed under Fitness and was tagged with Fashion, Models, Organice Your Life, Vegetarian, Vegan, Born To Run, Lonneke Engel, Green monster, Smoothies, Choosing Raw, veganism, vegetarianism, Eat, Live, Run, iron, Summer Shape Up, Death Ride, Gluten-Free Food, External motivators, Workout buddies, The Better Man, Don Wildman, Glow Yoga SF, Motivation to exercise, TwinCakes, San Francisco, health, Street style, FitSugar, Vegetarian Thanksgiving, Lindsay Ellingson, Thanksgiving, Vegetarian recipes, Cranberries, Sweet potato, OhSheGlows, Peas and Thank You, Smoothie, Protein, Modelinia, monthly goals, vegan baking, No Meat Athlete, Eat Live Run, Nutrition, Dieting, Recipes, The No Meat Athlete, Streetstyle, Twin Cakes, Pure 2 Raw, Green juice, Fall 2012, Blogger fashion, detox, Gluten-free, Plant-based diet, Plant-Based Power, Power of a Plant-Based Diet, cleanse, Andie Arthur, healthy recipes, green smoothies, Dreena Burton, Erin Heatherton, vegan breakfast, San Francisco Fashion, healthy lifestyle, Vegan recipes, Vegan diet, Vegetarian diet, Dairy-free, Kale, Pure2Raw, Jenna Webber, healthy eating, dairy-free recipe, gluten-free recipe, Angela Liddon, raw food diet, gluten-free recipes, gluten-free diet, Sun Warrior Protein Powder, vegetarian baking, Gena Hamshaw, raw foods, high raw diet, San Francisco Street Style, raw food, blogger style, raw protein powder, vegan protein powder, spinach smoothie, kale smoothie, vegetable smoothie, plant-based protein source, Vega protein powder, sweet potatoes, veggie smoothie, blended salad, old school, Marilyn Monroe, San Francisco style, Styling, working out, raw diet, Style, Fitness, Food, raw recipes, spinach, Fashion Blogger, Fall clothes, Fall 2012 clothes, vegan desserts, dairy free recipes, vegetarian desserts, healthy living, Peas and Thank You: Simple Meatless Meals the Whole Family Will Love, Vegan protein, Matt Frazier, San Francisco Fashion Blogger, workout, SF, vegan recipe, SF Fashion, SF Style, SF Street Style, Fashion Blogger Style, Fashion Blogger Fashion, vegan dessert, Blogger, green smoothie, SF Blogger, SF Fashion Blogger, food blogger, Cinnamon rolls, Sun Warrior, Chocolate Protein Powder, Sun Warrior Chocolate Protein Powder, Fall accessories, organice, San Francisco Blogger, vegan dessert recipe, Green Thickies, Fall Fashion, Fall 2012 Trends, Fall trends, Fall 2012 Fashion, fall coats, Fall 2012 Must Haves, Vegetarian dessert, Fall Style, Fall Clothing, Fashion Blogger Street Style, Blogger Street Style, Blogger Streetstyle, Fashion Blogger Streetstyle, Nutritional information, Quick vegan recipe, Easy vegan recipe, grain-free, healthy life, Meal replacement, Meal replacement smoothie, Smoothie challenge, Thanksgiving decor, Thanksgiving decorations, Thanksgiving decorating, Fall 2012 Style, Diet, Vegan living, Vegetarian living, Snickerdoodles, healthy smoothies, High raw, Fall Must Haves, Fall Necessities, Fall Essentials, Fall Styling, protein rich, SF Food, San Francisco Food, SF Food Blogger, San Francisco Food Blogger, recipe, Vegan life, Vegetarian life, vegetarian dessert recipe, grain-free recipe, vegan lifestyle, Fall 2012 Clothing, SF Streetstyle, San Francisco Streetstyle, vegetarian recipe, vegetarian lifestyle, Fall 2012 Accessories, easy vegetarian recipes, easy vegan recipes, Fall outerwear, Fall jackets, Fall 2012 essentials, Quick Vegetarian recipes, Fall 2012 Coats, Fall 2012 Outerwear, Fall 2012 Jackets, Fall 2012 necessities, grain-free recipes, Challenge, October, October goals, Vegan Smoothie, mostly vegan, Vegan meal replacement, Vegan soup, Soup recipce, Soup recipes, Healthy soup recipe, Healthy soup, Quick & easy soup, sweet potato soup, leafy greens, Raw soup, Raw recipe, Raw soup recipe, raw blended salad, vegan blended salad, vegan salad, Raw Carrot, Raw Carrot Soup, Carrot Soup, Carrot Soup Recipe, iron rich, perfect smoothie, digestion, IBS, irritable bowel syndrome, crohn's disease, Digestive diseases, auto immune diseases, autoimmune, high protein smoothie, protein smoothie, protein-rich smoothie, Smoothies for dummies, smoothie making for dummies, Mama Pea, Vegan Thanksgiving, Thanksgiving food, Thanksgiving recipe, Thanksgiving recipes, Vegetarian Thanksgiving recipes, vegan Thanksgiving recipes, Bourbon Vanilla Cranberry Sauce, Cranberry sauce, fresh cranberry sauce, cranberry recipe, cranberry sauce recipe, Thanksgiving sides, Thanksgiving side recipes, Thanksgiving appetizers, Healthy recipe round-up, healthy thanksgiving recipes, Healthy Thanksgiving, Pumpkin pie recipe, healthy pumpkin pie recipe, pumpkin pie alternatives, healthy alternatives, pie alternatives, gluten-free Thanksgiving, gluten-free Thanksgiving recipes, grain-free Thanksgiving, grain-free Thanksgiving recipes, dairy-free Thanksgiving, dairy-free Thanksgiving recipes, •Healthy Pumpkin Pie Alternatives, Vegan Pumpkin Custard, Vegan Pumpkin, Custard, Pumpkin Custard, Vegan stuffing, Vegan stuffing recipe, Gluten-free stuffing, Gluten-free stuffing recipe, Skinny Pumpkin-Banana Bars, Pumpkin-Banana Bars, Pumpkin Loaf Bread, kid-friendly Thanksgiving, allergy-friendly Thanksgiving, Kids Thanksgiving, Child Thanksgiving, Children's Thanksgiving, Gluten-free pumpkin pie, pumpkin pie, Thanksgiving dessert, gluten-free Thanksgiving dessert, vegan Thanksgiving dessert, vegetarian Thanksgiving dessert, grain-free Thanksgiving dessert, dairy-free Thanksgiving dessert, Vegan pumpkin pie, grain-free pumpkin pie, dairy-free pumpkin pie, vegan pie recipe, vegan pie, Pumpkin Bread Pudding, Pumpkin Pie Brownie Cupcakes, Pumpkin Pie Cupcakes, Brownie Cupcakes, •Sweet Potato Cinnamon Rolls, Sweet Potato Cinnamon Rolls, Blondies, Blondie recipe, Chocolate chip pumpkin blondies, pumpkin blondies, Snickerdoodble blondies, Dressing, Vegan Dressing, Vegetarian Dressing, Dressing recipe, Gluten-free Dressing, Grain-free dressing, dairy-free dressing, Fat Free Vegan, Let Them Eat Vegan, Eat Drink And Be Vegan, Cranberry Raspberry Relish, Vegan relish, No-Fu Loaf, Tofu-free entree, Tofu-free Loaf, Everyday Vegan, Plant-Powered Kitchen, Cornbread stuffing, Chickpea Tart, Vegan Entrees, Gluten-Free Entrees, Vegan Thanksgiving Entrees, Gluten-free Thanksgiving Entrees, Vegetarian Thanksgiving Entrees, Strawberry Roasted Chickpea Salad with Cinnamon Dijon Vinaigrette, Strawberry Roasted Chickpea Salad, Cinnamon Dijon Vinaigrette, Mashed sweet potatoes, Sweet Potato recipe, Fat Free Vegan Kitchen, Creamy Vegan Broccoli and Rice Casserole, FatFree Vegan Kitchen, Salad-free ways to eat more leafy greens, Salad, Chef Amber Shea, Fall Detox Salad, Baked Apples Stuffed with Cinnamon Date Pecan Oatmeal, Baked Apples, Glazed Lentil Walnut Apple Loaf, Lentil Loaf, •Sweet Potatoes with Candied Pecans Recipe, •Sweet Potatoes with Candied Pecans, Holiday Baking, Gluten-Free Holiday Baking, The Kitchen, Avocado Sweet Potato Salad, Vegan Mother Hubbard, Model Meal, The Ultimate Thanksgiving Meal, Model meals, Model recipes, Sessilee Lopez, Tofu Loaf, Stuffed Bell Peppers, Vintage workouts, Vintage photos, Black & white photos, Black & white workout photos, old school photos, old school workout, Marilyn Monroe workout, Marilyn Monroe working out, Marilyn Monroe lifting weights, Marilyn Monroe weightlifting, Marilyn Monroe lifting, Marilyn Monroe black & white.
2 Responses
Pingback: A Healthy Mentality « Moi Contre La Vie

Pingback: Links You'll Love « Moi Contre La Vie