Health/Fitness:
Want to take up running so that you can get outside and enjoy the gorgeous weather instead of wither away inside at the gym? Couldn't agree more! Running Tips: How To Get Started – Women's Health.
Need some quick workout inspiration to get you motivated for bathing suit season? Check out this video – Valerie Waters: I Want My Bikini Body Express.
Curious about trying another way of eating so that you can feel your best? Read Experience Life's Paleo Vs. Vegan for some interesting information.
If you want to eat healthier and like the idea of a meal-sized salad for dinner try these 5 Fresh Main-Course Salads from Health.com. They're packed with protein and hearty ingredients so you'll be satiated and stay full afterwards. Not convinced? Read through Gena Hamshaw's How To Fall In Love With Raw Food on Whole Living Daily. She's the writer behind the wildly successful Choosing Raw website and one of the first blogs that I discovered when I took an interest in my personal health and eating better a few years ago. I highly recommend taking a look at what she has to say.
Over the years I've definitely been guilty of over-training. From twice-a-day workouts to skipping my rest days, I've gone through periods where I didn't let soreness or exhaustion keep me out of the gym or off the trails. Not. Good. Are You Recovering, Or Are You Just Resting?
Are you a fan of eggs? Check out Fit Bottomed Girls' piece on 5 Fun Ways To Eat Egg Whites. Or are you a fan of kale? Try Shockingly Delicious's Better Than Trader Joe's Kale and Edamame Bistro Salad.
Fashion:
If you're in the market for some great new earrings to complement your warm weather looks this season, look no further! Heels & Sunkissed Curls has you covered with DIY: Silk Tassel Earrings that are too stylish for words!
New York City has been one of the world's fashion capitals for years, check of what everyone's wearing there this Spring - Refinery 29′s Street Style Video: What's Fresh On 5th Avenue.
Nothing says Summertime quite like braids to me. Refinery 29 and Cup of Joe both agree with me wholeheartedly. Check out Refinery 29′s DIY Braids piece – Genius New (Promise!) Ways To Braid Your Hair and A Cup of Jo's Holiday Hair Tutorials, which also contains links to all sorts of other hairstyles, from buns to braids to ponytails. I plan to try them all!
Summer Shorts Roundup – 16 Summer Shorts In Evert Length You'll Ever Want and Elle's 2012 Denim Guide.
Miss Olivia is becoming something of a staple around here – From her adorable wedding season-appropriate outfit on last week's Looks of the Week post, to her closet-organizing tips in Links You'll Love, to Style File breakdowns on her great personal style. So what do I have for you today? Well, if you're liking interesting patterns and prints for Summer she's got the goods for you – How To Rock: The Tribal Touch.
---
The time has finally come and Spring is upon us and it's time, ladies and gentlemen, to rearrange your closets so that your warm weather clothes are more easily accessible. Spring and Fall are my favorite, I love the transitioning seasons when it's slightly warm but still crisp and the skies are bright blue and cloudless. I adore going for walks at night when it's still light out, going  to the Farmer's Market and making huge, brightly colored salads, and of course, bearing some skin after months of being hiding under layers and layers of fabric.
So what's on tap for Spring? As usual every magazine and fashion blog has a helpful list of what the New York, London, Milan and Paris collections showed for Spring 2012 - Fashionologie, Vogue, Harper's Bazaar & Elle to name a few. They go to the runway shows and examine them look by look to determine what the upcoming season will be all about. And this season we have: rounded shoulders, lace, 20′s art deco, ladylike silhouettes, florals, tribal prints, peplum tops & dresses, exaggerated & padded hips, wide belts, minimalism, head-to-toe white, mesh, sporty, cropped tops, bra tops…
Bra tops?
As adorable as these models look, this isn't a what I would call a real trend for real people. Truth be told, pretty much only Carrie Bradshaw can wear a bra top in public. So my goal here today is to give you some ideas for great Spring dressing that are more suited to our non-Sex In The City day-to-day lives.
Pastels:
Pastels are usually a Spring staple and this year is no different. However, rather than putting together solid candy colored looks, try mixing various soft, sherbet shades together for a colorful but subtle look.
Lindsey Wixson & Frida Gustavsson's ad for Mulberry highlights the beautiful pastel trend perfectly. Why not try pairing pastel pieces with neutrals or even black for a tasteful work-appropriate look?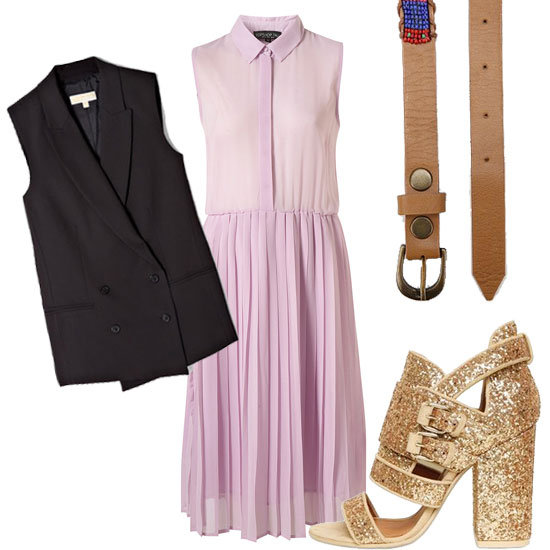 See FabSugar's ideas on how to integrate pastels into your wardrobe in 5 Ways to Wear Spring's Pretty Pastels or WhoWhatWear's How They Wear Pastels featuring Sarah Jessica Parker, Hanneli Mustaparta & Lily Collins.
Popping:
You may already be sick of the phrase "pop of color" (right Holly?) but this trend isn't going anywhere anytime soon…
Why settle for one splash of color when you can have two like Judith Bedard does below? I love that she didn't try to match her tights and oh-so-French scarf. They're both beautiful, bright colors, and they're both utterly different.
This is an ideal style for those - like me – who wear mostly black, since adding a bright scarf, pair of shoes, or purse is incredibly easy. Yet those quick touches immediately update your look, make it fresh and take it to a new level. So what did I do to ensure that I could pop pop pop all Spring long?
I bought myself a new best friend!
A scarf, hat, bag or piece of jewelry are all great choices for bringing this trend to life. But you can get even more creative and find other ways to flash some color. How about a bright hairpiece or headband? What about throwing on some brilliantly colored nail polish?
Bright Blazers:
Similar to the splash of color trend is the modern style of adding a colorful blazer to your outfit to give it a bit of flash.
Above model Josephine Skriver shows just how to pair a bright blazer with a warmer look – slim pants, booties & long sleeves will all keep the chill away as we wait impatiently for the weather to heat up. Already warm enough to lose the pants in your neck of the woods, you luck duck? Try pairing a brightly colored blazer with shorts for a more Summery look like Liz Cherkasova from Late Afternoon does below. She even mixed multiple trends by adding metallic shorts & accessories as well as a floral printed blouse to her look. Quite the Mix Master!
For more tips on finding the perfect blazer, see Rachel Bilson's Spring blazer recommendations or Frugal Fashionista's great celebrity-inspired choices featuring fashion stars like Kirstin Dunst, Beyonce and Olivia Palermo.
Prints:
While florals are always a Spring staple, this year you should also invest in some other types of prints as well – from tribal prints to chevron zig zags to typical florals to geometric patterns – there's something to suit everyone's style. Whether you want to add a printed bag or belt to a monochromatic look or bravely don head-to-toe print, you should definitely give this trend a try.
Hanne Gaby Odiele & Elisa Nalin were both ahead of the curve and showing off gorgeous prints during the Fall 2012 shows this past month. I like that while they're both wearing florals their looks couldn't be more different, they're both quite creative with their personal styling.
Even if you're still working up the courage to flaunt the all-over 70′s style print you've always admired, you can try something a bit more subtle to work your way closer to your goal.
A faint pattern like the two dresses above is a good stepping stone. It gives you a fun pattern to play with but isn't quite as bold or dramatic as Hanne and Elisa's looks at the top of this section.
White dresses:
Ashley Madekwe's crisp Armani Exchange dress is light and summery, she paired it with black sandals and layered jewelry for a fun daytime look. While Natalia Vodianova's dress shows the other end of the white dress spectrum, something fitted and more formal, with dramatic, nighttime accessories – bold purple heels and a crimson clutch.
Whether you're planning to attend a garden party or have a hot summer night out on the town in mind a white dress is a great choice to show your tan off to perfection. Try adding colorful accessories to keep it fun during the day, chic black & white in the evening or even try out an all-white look if you're not prone to spilling things…
In the mood for some more inspiration, check out the Native Fox's white & red look on Lookbook.nu.
Shirtdresses:
I love shirtdresses! They always look crisp and fresh, and a little more of a formal feel to them than most sundresses so they're acceptable in a number of social situations. Versatility is key!
A shirtdress can be worn casually during the day with sandals, a floppy hat and a cute tote bag, but it can easily be dressed up at night with heels, a cinched waist and some serious costume jewelry. It's all about the accessorizing ladies!
If you need a tutorial on this subject head over to The Stylist's and read their latest series Lessons For A Modern-Day Lady and their most recent piece How To Wear A Shirtdress.
Cropped Pants:
This is one of my favorite looks for Spring, cropped pants are universally flattering and whatever your personal style, there's the perfect pair for you. From bright colors to basic denim to harem style to classic Jackie O inspired black.
Want to take your crops to a new level? Try them in something textured or an interesting new fabric. Miranda was downtown chic in brown leather Capri pants and a basic denim button down. FabSugar as a great breakdown on the best cropped trousers for Spring - from J.Crew and Zara to Thakoon, Diane Von Furstenberg and Tibi.
Desperate for more ideas for Spring? Check out the FabSugar readers' Spring Must Haves or Gwyneth Paltrow's GOOP newsletter's Get Ready For Spring.
Finding yourself inspired for Spring? Don't forget to enter the Spring Giveaway for a chance to win a $50 gift certificate from Bloomingdale's!
---