---
Happy Monday everyone!
Here are some fun links to get your week started right. Enjoy!
Fashion: When I saw this shot I was pretty intrigued. This is quite the vampy, sexy manicure! DIY Nail Art: A French Manicure That Fades To Black.
How you style a look is nearly as important as the pieces itself. Want some new ideas and tips on how to mix the pieces in your closet? WhoWhatWear to the rescue – June Styling Tips.
Does the ethics of a brand affect how much you like it? Vogue – Style Ethics: Olivia Wilde's Bag for Alternative Apparel + Our Favorite Eco-Friendly Picks.
Did you enjoy all of the 2013 Resort Collections? Well Eat, Sleep, Denim has a must have a list from the shows for you – Denim Trends: A Wishlist.
Health/Fitness:
I don't know about you, but I'm at a loss without music. Can't work out. Can't run. The right playlist not only gets you amped up for your exercise routine, it can keep you going when you're ready to quit! These gym-regulars have just the play list for you – Victoria's Secret Angel Erin Heatherton, Dutch model & Organice Your Life founder Lonneke Engel, and model slash DJ Harley Viera-Newton.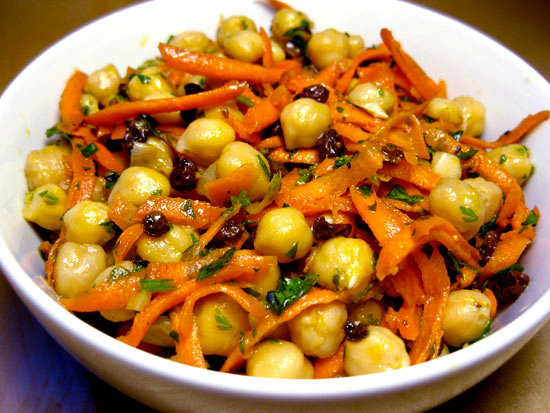 I don't know about you, but fresh veggies and colorful salads are always a highlight of the summer for me. I love crisp, bright, refreshing recipes full of farmer's market fare. If you agree check this out – Sweet and Savory: 3 Ways to Enjoy Summer Carrots.
A raw diet is something that I tried when I first went gluten-free and vegan a few years ago, after reading Carol Alt's Eating in the Raw: A Beginner's Guide to Getting Slimmer, Feeling Healthier, and Looking Younger the Raw-Food Way. While I don't follow a 100% raw diet 100% of the time, I definitely appreciate the health benefits and continue to eat a high raw diet – usually I eat raw until dinner. Well, luckily for us Miss Alt is back with a new book called Easy Sexy Raw: 130 Raw Food Recipes, Tools, and Tips to Make You Feel Gorgeous and Satisfied. Check out the review on Amazon or the piece on her new book in the NY Daily News.
It might not be news to you, but studies show that Sleepy Brains Are Drawn To Junk Food. Which means that in addition to introducing major health problems, reducing concentration, and causing forgetfulness, sleep deprivation can cause weight gain. Are you getting enough sleep? Check out my post on sleeping – Confessions of a Former Insomniac.
Just as I love braids for summer, there are certain makeup looks that just scream Summertime to me. From dewy skin to bronzed perfection, find the perfect look for warm weather days. The Zoe Report's 10 Summer Beauty Wants – Hot Topic and Gala Darling's beauty obsessions on Beauty Bender.
---
With bathing suit season nearly upon us I think that now's a good time to turn our thoughts to health and fitness. Rather than crash diet or give ourselves 10, 15, or 20 days to reach specific goals in the upcoming months, why not change our habits and lifestyles so that we can stay healthy, happy, and in-shape all year around?
So with that goal in mind here are some health and fitness-related to links to get you motivated and in the mood for positive, healthy life changes. It's a well-rounded list of reading materials, from interesting new workouts to healthy daily changes you can make to recipes you should try out. This is a great first step in a healthier direction!
Workouts:
Whether you're a fan of free weights, classes at the gym, running, or yoga, we all know the importance of staying active in maintaining a healthy lifestyle. Getting your heart rate up a handful of times a week is vital and adding walking to your daily regime will make all the difference in the world. I promise. You can even try low-intensity fasted cardio and get some walking in first thing before breakfast. Or ride to and from work each morning on your bike! Below are some ideas for different types of workouts to try, ways to mix up your trips to the gym, DVDs you may be interested in trying, and running tips.
Food:
How we fuel our bodies is the single most important thing that we do for our health on a daily basis. We make countless decisions every single day about food and beverages, and its easy to make the wrong choices if you're not paying attention, haven't educated yourself, or even if you procrastinate and wait until you're starving before reaching for something. Fad diets will come and go, but eating a healthy, balanced diet is always going to be the best approach. Always.
A big part of starting a healthier way of eating is making better choices, whether you're swapping calorie-dense processed foods for fresh fruit and vegetable-based snacks on a daily basis, reducing your portion sizes each meal, or giving up refined flours and sugars. Cooking in your home is always going to be the best way to ensure that you're eating the healthiest that you can eat – Here are some tips and ideas to get you started: What can you make with avocado, 7 Nutrient-Rich Juice Recipes, 6 Healthy, Crowd-Pleasing Spring Soups, know your good fats from your bad fats, summer salads, 10 healthy raw recipes, oven-roasted vegetables, 10 healthy egg recipes, vegetable quinoa pilaf, 5 healthy hardboiled egg recipes, and Recipe Roundup: Bars, Kale Chips, and Other Ideas for Quick, Easy, High Raw and Vegan Snacking!
Interested in trying out a plant-based this Spring but worried that you'll miss out on your favorite foods? Check out Vegetarian Comfort Food Recipes from Women's Health, Fitness Magazine's Endurance Athlete Brendan Brazier on How to Fuel an Active Lifestyle the Vegan Way, FitSugar's Filling Veggie Meals That'll  Boost Your Metabolism, or even hit the grill with vegan-friendly burgers or Bourbon Tempeh Sliders!
Try a healthy, nutrient-dense, filing breakfast to start your day out right: Vegan Overnight Oat Parfaits- 12 Recipes To Kick Off The Season, Smoothie Love, Mouthwatering ways to improve your oatmeal, Green Juice & Smoothie Recipes, or Scrambled Eggs with Smoked Salmon, Asparagus and Goat Cheese.
Motivation:
Finding the internal motivation to lace up your sneakers or grab your gym bag can be a challenge sometimes – when you have a bad day, when your schedule is hectic and you swear you don't have time, when you're tired, or it's that time of the month…
Sometimes it's the little things that motivate get us to the gym – Wanting to show off our new gear, being excited to listen to a new playlist, meeting a buddy for a workout… Don't be embarrassed, use anything you can think of to get yourself to the gym! Read Rachel Wilkerson's Lesson #115: How to Bribe Yourself to Work Out, FitSugar's Foolproof Ways to Motivate a Weekend Workout on Friday Night, Prevention's 7 Home Workout Excuses to Bury, Shape's 12 Sayings to Get You Moving, Lifting, and Laughing, and Real Simple's Friday Find: Style Firm.
Different ways to motivate yourself: 5 Crazy Fit Female Athletes, 3 Motivational Musts That Get Me To The Gym, Motivational Quotes to Get You Moving, 9 Ways To Use Your Smartphone To Stay Motivated, Move It or Lose It! How to Motivate a Lazy Friend to Exercise, Why Eating Right and Gym Motivation is Mental, and How to Jump-Start Your 2012 Workout Action Plan.
I love looking at inspirational sayings and pictures to amp me up before a workout (or to encourage me to hit the gym when the couch sounds amazing…) – Check out Pinterest for all the motivation you can handle!
Extras:
And if you're just starting out in the fitness arena and feeling a bit unsure of where to begin read through my Gym Goddess posts for workouts, inspiration, and things to keep in mind for beginning gym-goers:
What are my personal health and fitness goals for this Spring and Summer? Finally get through my spinal injury, start running, hitting the gym for circuit training, going to Pilates classes, and get up the courage to check out boxing and martial arts classes!
And just to make you guys laugh, here's Shit Girls Say At The Gym!
---